Considered one of Canada's most beautiful stamps, the Bluenose was created in 1929 as a high value (50 Cents) in the King George V scroll issue. It's striking dark blue color is very evident and has been a collector's favorite from that year onward. The name Bluenose was actually the name of a Canadian fishing schooner as you will see in more info below.

Printed by the Canadian Banknote Company of Ottawa, it shows the fishing schooner photographed racing off Halifax Harbor by Wallace MacAskill in 1922. The designer actually chose to show two images of the schooner to represent it winning one of it's legendary races.


Despite it's racing career, the Bluenose is not a yacht but a fishing schooner, and actually spent much of its life as a working ship although it was designed and built with racing in mind. It was one of hundreds of schooners that each year ventured out into the Grand Banks off the coast of Newfoundland, fishing for cod from March to October. Designed by noted yacht designer William Roue of Halifax, it was built in Lunenburg, Nova Scotia, and launched in 1921. Its name "Bluenose" is a nickname given to those who fish the Grand Banks, although the ship is actually painted black. On one excursion, the Bluenose brought back over 300,000 pounds of cod, the largest catch ever recorded in Lunenburg's history.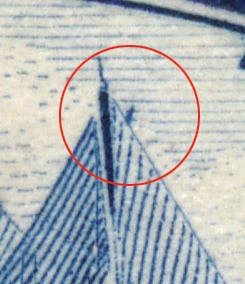 There is a rarity that exists with this issue. It's called "man on the mast". It appears as a small image of a figure just below the top of the forward mast. This is an item that can be faked easily so expertizing of such a stamp is necessary. Such legitimate varieties are quite pricey.
In Canada, there is an annual challenge called the International Fishing Trophy, a competition among the fishing boats of the Grand Banks. The Bluenose, reaching speeds of 17 knots under full sail, won the trophy in 1921, 1922, 1923, 1931 and 1938 under Captain Angus J. Walters, never losing a race in 17 years. It sailed to Chicago in 1933 to represent Canada at the Century of Progress Exhibition, and sailed to England in 1935 for the Silver Jubilee of King George V. Outdated and replaced by modern motorized vessels, it was retired from service in 1942 and sold to work as a freighter in the Caribbean, stripped of its sails and masts. Laden with a load of bananas, in 1946 it crashed into a reef and sank off the coast of Haiti, a sad ending to a legendary icon.

The famous Bluenose, easily the most recognized Canadian ship and a national symbol of Canada, is also shown on the Canadian dime and on Nova Scotia license plates. Today, the Bluenose II, a replica built in Lunenburg in 1963, recaptures the glory of these magnificent schooners, representing Nova Scotia at numerous events.With just over one million copies printed, it remains and continues to hold excellent value:
MNH - $450.00
MH - $350.00
FINE - $200.00
USED VF - $100.00
USED FINE - $50.00