I was originally trained as a journalist, and my father taught me some very pertinent things about the use of language. Amongst them was the importance – and lack of importance – of certain words. He was the first to teach me about objectivity vs. subjectivity. He phrased it as unambiguous and ambiguous, respectively. Some words have a clear, precise meaning, while others (commonly used in advertising!!) can be interpreted in multiple ways. The subjective words or phrases tend to appeal to the reader's own desires, with the reader (or listener) interpreting them in the way most pleasing to the reader. We were not allowed to use the subjective words in our newspaper except in the opinion columns. Newspaper reporting was the "who, what, when, where, how and why" approach, with caution to be exercised in the "why" discussion.

Stamp dealers, auction houses, and even collectors like to embellish the descriptions of their offerings with subjective, or ambiguous terms. Even philatelic authors succumb to the temptation to express a feeling or an emotion about the topic of the article. We, as readers and buyers are always going to be exposed to vague terms and we almost without awareness read them, apply our own interpretation, and go on. It may be of some value to all collectors to develop a sense for these adjectives that, while probably not intended to deceive, induce a positive unconscious reaction that encourages purchase of the item.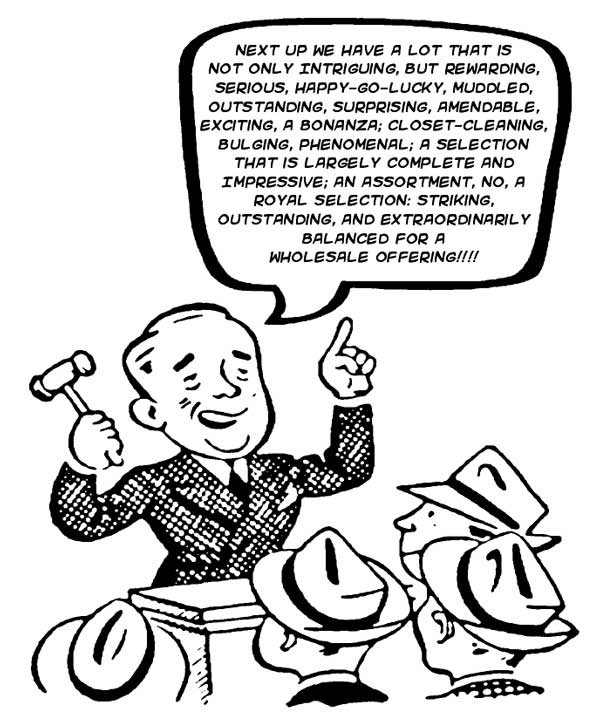 Over some period of time, I have jotted down the words and phrases that I have observed in auction catalogs, dealer descriptions and ads that fit the above definition of ambiguous interpretation. Enjoy reviewing this list of terms used in stamp auction catalogs and dealer's ads that are enticing, but uninterpretable, and use caution when you see the word or phrase used to describe the collection or item you are examining!
Comprehensive
Floor Sweepings
Attractive
Hand Selected
Wondrous
Valuable
Decent
Beautiful
Considerable
Zingers
Great
Good
Better
Potpourri
Interesting
Excellent
Extensive
Enhanced
End-of-the-line
Abundant
Several
Huge
Rudimentary
Imaginative
Clever
Collectible
Packed
Mostly Loaded
Mass Cherry-picked
Abundant
Several Seldom seen
Worthy
Fairly Complete
Monstrous
Substantial
Important
UsefulRarities abound
Not to be missed
Exhilarating
Wonderful
Delightful
Enjoyable
Promising
Rewarding
Expandable
And my personal favorite for ambiguous interpretation:
UNBELIEVABLE!